What Are Residential Proxies
Residential proxies are IP addresses that come from real user devices. They're ideal for web scraping and other online activities because they look like real users and are less likely to be detected by websites, which are often using advanced bot detection systems. By using the best web scraping tools with residential proxies, businesses, and individuals can access data more effectively and with greater privacy.
Because of the huge value that comes with residential proxies, their value is the highest among all the other proxy services and therefore they are quite costly.
Advantages of using residential proxies
Now that you know what residential proxies are, it is the perfect time to uncover the main benefits of using those proxies.
Highest success rates
Compared to other proxy services, residential proxies offer the highest success rates (unlike datacenter proxies for example). The explanation for that is very simple. Since residential proxies use IPs of real users and devices, the bot detection software can't detect them. When you are sending a request to a website through a residential IP that you've got from a proxy provider, the website treats the request as if it is a regular user and not a request sent by software.
The top residential proxies often reach a 99%+ success rate.
Unlimited bandwidth
It could play both as an advantage and disadvantage. While you are using residential proxies, there is no limit to the bandwidth you can reach, meaning that if you are launching a large web scraping operation you are covered in terms of bandwidth usage. Please remember that all reputable proxy providers are charging you per GB of use, so calculate your budget and scale for the project before you begin.
IP rotation
While you are using residential proxies, given the provider has a large pool of IPs, you can decide if you want to rotate IPs after a certain time or number of requests. By doing so, you are reducing the chances of being blocked and the logic behind it is very clear – if you are using the same IP, even if it's a real residential one, the website might block you if you are sending too many requests.
Of course, IP rotating isn't a must, but it's nice to have that option.
Access to geo-restricted content
Imagine that you are living in the UK, but you are working on a project that requires accessing specific websites in the US. Those websites could restrict your access because they allow only US IPs to access them. This is where proxies come into play. Since datacenter proxies are often getting blocked, you can't rely on those as the same websites you want to access or scrape, may have those IPs blocked already.
Even the best ISP proxies aren't ideal for large-scale projects that require a huge pool of IPs. So for those of you that fall under those project requirements, residential proxies are the perfect solution.
The top residential proxies to use in 2023
To conduct this list we checked dozens of different providers, some of them are new and seemed promising, but eventually, we decided not to include them for different reasons like bad online reputation, lack of customer support, shady pricing, and more.
Now, we are going to rank the top proxy providers based on different criteria. Choose the provider that seems to offer the best deal for your needs.
Criteria we are reviewing for this list:
Pricing
Proxy quality
Pool size
Geographical coverage
Customer support
Security and privacy
User experience
Online reputation
Pricing comparison
As you can see in the table below, all the reputable providers offer quite high prices for residential proxies, especially if you are starting with the pay-as-you-go or starter plans.
| | | | | | | |
| --- | --- | --- | --- | --- | --- | --- |
|   | Bright Data | Oxylabs | Smartproxy | Soax | Nimble | Netnut |
| 1GB | $15 | $15 | $12.5 | N/A | N/A | $20 |
| 25GB | $15 | $12 | $9 | Approx. $11 | Approx. $14 | Approx. $15 |
| 100GB | $10.05 | $8 | $7 | $7 | Approx. $9 | $8 |
| 500GB | Custom | $6 | $5 | $5 | $7 | $5 |
| 1TB | Custom | $4 | $4 | $4 | Custom | $4 |
As you can see, we included only the best residential proxy providers in the table above. It is clear that the best deal in town right now in terms of pricing is Smartproxy. They are offering very attractive rates, but the other providers aren't far behind.
Top Providers by Popularity
Popularity is an important factor in our choices. As you can see in the chart below, which is based on the last 12 months worldwide, Bright Data is the most popular brand among the top 5 ones on our list. It doesn't necessarily mean that it's the perfect choice for you, as each provider has its own advantages and disadvantages which we are going to cover in detail now.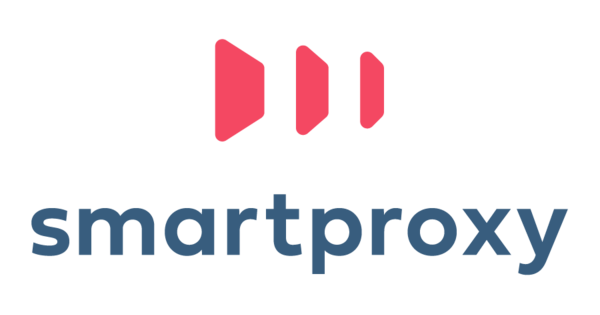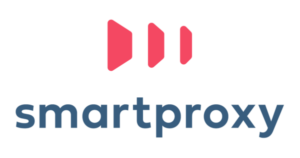 1. Smartproxy
Best overall choice
Overall rating: 9/10
When it comes to proxies offered by Smartproxy, we are happy to put them at the top spot. Their residential proxies are authentic and highly stable, and we didn't experience any downtime while using their proxies. Also, they have a built-in anti-detection tool that works quite well and in some cases helps you avoid using 3rd party anti-detection tools and browsers like Kameleo or Multilogin.
Their support is top-notch, providing you with suitable solutions to your problems in less than a few minutes. Also, the technical level of their agents is very high, so you can expect fast and professional responses.
Features
Top-notch customer support, available 24/7
Success rate: 99.41%
Easy proxy integration with 3rd party tools
Proxy rotation available: Sticky sessions keep the same IP address for up to 1, 10, or 30 minutes while rotating sessions change the IP with each new request.
City-level targeting available
Easy-to-use control panel
More than 40M real residential IPs, with 7M+ in the US
An in-house anti-detection browsing tool
Chrome extension available
Supported protocols: HTTP/S
Rated 4.7 on Trustpilot
3-day refund policy
Countries available: 195
Disadvantages
Not enough information about the source of IPs
SOCKS5 proxies are available only with static IPs, which are available only on datacenter proxies
Confusing pricing on the homepage
IPs pool is still significantly smaller than some other providers
IPs are provided to them by external companies (see the image below)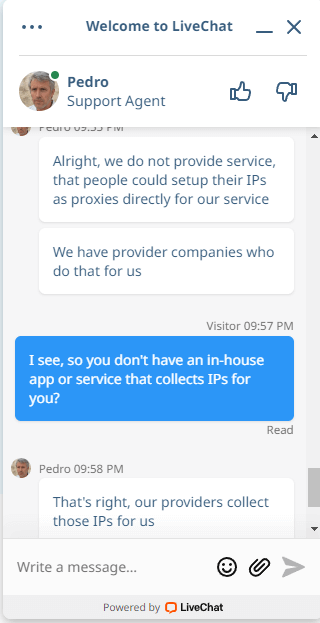 This means that their residential IPs are provided by external companies, and we can't really verify if those suppliers use ethical ways to gain access to those IPs.


2. Bright Data
Best performance
Overall rating: 8.5
There is so much we can say here. Bright Data is considered by many as the pioneer of the proxy industry. Their residential proxy services are great in terms of quality and their network didn't have a single downtime for a few months now. In terms of proxy quality, there are no competitors to Bright Data.
We know what is the source of their IPs, which is a big plus too. Their IPs are coming mostly from 3 sources: EarnApp, Hola VPN, and their own SDK. All the users that opt-in are willingly sharing their IPs (a clear consent) and therefore you know that you are using legit IPs only.
But, even after being the leader of the proxy industry for so many years, they have a lot to learn about customer support. Yes, their support representatives are amazing and helpful, but there is no live chat even as a client. Really? it's 2023 guys. Also, their control panel isn't as friendly as the other providers and the prices are the highest in the industry. Maybe after fixing all those issues, we will rate them as the best overall choice.
We decided to refer to their KYC (know your customer) process both as an advantage and disadvantage. It wastes the customer's time, but on the other hand, keeps the network safe.
Features
The highest success rate in the industry (99.67%)
Countries available: 195+
Proxy manager available
Easily integrate with 3rd party tools
Strict KYC process
Ethically sourced IPs
More than 70M IPs, 3M+ in the US
City-targeting available
Carrier targeting available
Rated 4.7 on G2
Rated 4.8 on Trustpilot
24/7 support available via tickets and emails
More than 3000 patents granted
Disadvantages
High prices
No live chat support
The control panel is not friendly
Strict KYC – harder to get access to residential and mobile proxies
A low number of US IPs
START FREE TRIAL – BRIGHT DATA


3. Oxylabs
Biggest pool of IPs and high success rate
Overall rating: 8.5
When it comes to Oxylabs, we are getting excited. They managed to reach more than 100M (!!!) real residential IPs. They don't have an in-house app, service, or SDK that they are using to acquire the IPs. They are using external companies for that, but they are making sure that the IPs are obtained legally.
Oxylabs are offering great customer support when it comes to residential proxies. We got our questions answered quickly and professionally via the live chat. In terms of the proxies quality, their success rate is really close to Bright Data's, standing at a stable 99.63%. The proxies are easily integrated into any software and the control panel of Oxylabs is very easy to use and understand. Oxylabs will probably be the best choice for US-based enterprise scraping projects due to the high number of US IPs available (10M+ residential IPs in the US).
The registration process is easy and fast too, with a good self-checkout option.
Features
100M+ IPs, 10M+ in the US
IP rotates every request by default, with the option to stay static for up to 30 minutes
Rated 4.9 on Trustpilot
SOCKS5 proxies available
Easy integration with 3rd party tools
Insurance in case of a mistake from Oxylab's side (the only ones to provide that option)
City-level targeting
Success rate of 99.63% based on our check
Targeting by ASN number available
Chrome extension available
Proxy manager for Android – one of a kind!
The best learning section in the industry
Avg. response time: 0.56s (checked 100 requests)
Disadvantages
More expensive than most providers
IPs aren't obtained in-house
No built-in anti-detection tools


4. SOAX
Great prices and stable proxies
Overall rating: 8
SOAX is a well-known brand that offers high-quality residential proxy services. They managed to obtain more than 5M residential IPs, which is impressive for a quite small provider. Their prices are affordable and they fall right in the middle between cheap proxy providers like Smartproxy and more pricy ones, like Bright Data and Oxylabs.
Their network is quite stable, offering an average success rate of around 98% according to them. While we were scraping Zillow using their residential network, we reached a success rate of 98.73% (out of 1000 total requests).
One of the cool things we've seen is that they are offering a 3-day trial for only $1.99. Yes, the bandwidth is limited to 100MB, but it's still nice to have the option of a trial period, especially when it comes to services like residential proxies. We've opted-in to the $1.99 trial and the overall impression is positive. The control panel is nice and easy to navigate. One of the weird things that we've encountered is that the proxies are HTTP/SOCKS5 by default. Why? We don't know. In terms of speed, there is much room for improvement too; we measured a response time of 3s on average per request. We didn't like that the number of ports is limited and increases with each plan.
The source of their IPs? a mix of external companies and in-house systems that obtain the IPs directly from the owners. Also, they have a KYC process, so be ready to pass on some personal information like ID, a detailed explanation about your use case, and more.
Features
Fair prices
Rated 4.6 on Trustpilot
Success rate of approx. 98%
3-day trial available ($1.99)
Unlimited sessions, similar to the top competitors
Good customer support (chat available too, not 24/7)
Great for SMBs (prices + pool size)
More than 5M IPs
Quick KYC
Disadvantages
Very limited ports
No IPs per country table
Only 34K US IPs in the pool
Response time approx. 3s (3+ times higher than the top competitors like Bright Data and Oxylabs)

5. Nimble
A promising new provider
Overall rating: 8
Nimble is a new provider that aims to conquer the proxies industry. They are offering residential proxies of high quality with a total number of IPs reaching 1M. The number of IPs is quite low compared to the competitors above, but it's a good start. The quality of their IPs is amazing, they have an internal management tool that enriches the IPs and serves only the top ones, which helps them reach a 99% success rate with a response time of only 0.6s.
The API requests are encrypted with AES and the IPs are ethically sourced and 100% compliant. Nimble has a developer-centric approach, so if you are an experienced developer, you'll feel here at home. Nimble has worked hard on its documentation, and we can assure you that you will find there everything you need.
The dashboard (control panel) is user-friendly and has many one-click proxy settings that you can take advantage of. The support team does a great job, it's just too bad there is no live chat available. The pricing is different from other providers, you get credits; you can use the credits to pay for the different services on Nimble, including residential proxies. 1 credit = $1.
Once Nimble manages to increase the number of residential IPs it has and will add additional tools and add-ons, it will move up in our rankings.
Features
Quick response time of 0.6s
API requests encrypted
Friendly control panel
195+ countries
Wide choice of add-ons, like the Nimble browser
The success rate is around 99%
Only top-tier IPs
Rotating proxies available
Wide range of ports
Disadvantages
No live chat
A low number of residential IPs
Pricing can be confusing to some
The control panel is a bit "dull"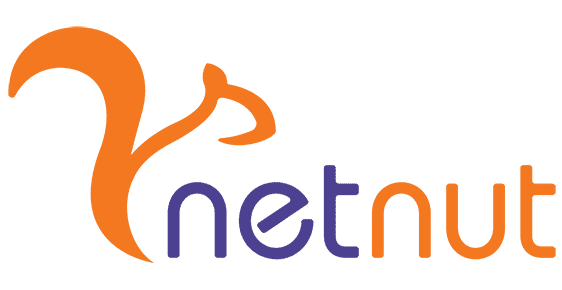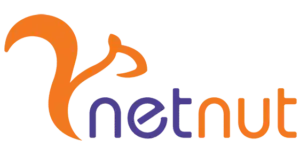 6. Netnut
Premium quality suitable for large projects
Overall rating: 7.5
We want to start with the quality of their live chat. We had a few queries before registration and we went through a time-consuming experience. The chatbot started to ask me too many questions about my use cases, domains, GB requirements per month, and so on. We finished the annoying journey and waited for an account manager to get back to me, which didn't happen (even though the support was online).
Now, to the proxies part. Their residential proxies network has a large pool of more than 30M IPs, but the number of countries is more limited than the top competitors. The residential IPs are P2P, but their ISP IPs are obtained through Divi Networks, which means that the IPs are obtained legally in general (the residential ones too probably). IPs are rotated by default and you can also use them for sticky sessions.
Even though they are claiming to be the fastest in the market, we measured a response rate of around 1.12s – which is great, but also not at the top of our list. The success rate we measured while trying to scrape our own website was 96.45%. Not bad, but still lower than the top providers on this list.
In terms of user experience, their dashboard/control panel is very friendly and you'll have all of your stats visualized in a simple way.
The small package prices are high, even higher than Bright Data. This makes Netnut a bad solution for small-scale projects. As we move up and choose the more expensive packages, the prices drop significantly and are on the same level as other providers.
Features
City-targeting available
IPs rotate by default
Live chat support
Reselling allowed
Response time of 1.12s
Success rate of 96.45%
Wide range of plans
Great resources section
Disadvantages
Annoying registration process
Live chat support isn't replying on time
Lower success rate than other top-tier providers
Small plans are expensive
No Google Signup

7. Shifter
The most flexible option
Overall rating: 7
Shifter has been around since 2012, offering different proxy services to its clients. When it comes to residential proxies, they have a solid product. They are not nearly as famous as the top solutions we mentioned before, but you should still consider them because of the large pool of IPs which contains more than 31M residential IPs, and the options to make your subscription cheaper by choosing "basic residential proxies", which means that the IPs you are going to use are based on a random geo-location. 
The uptime of all the residential proxies it offers is 99.99%, the response speed is below 0.8s for most of the countries, and you can control the auto rotation time. If you are looking for US residential proxies specifically, Shifter offers more than 4.7M of those! Now, about customer support; we encountered an issue with the proxy rotation which assigned us the same IP over and over again, and contacted the support. It took them less than a minute to get into the chat and the issue/bug with our account was fixed within approx. 15 minutes. 
An important and unique thing about Shifter is that it sells its proxies per number of ports, and not per bandwidth. With that being said though, the plans are still limited with a certain bandwidth (200GB included in the $199/mo plan of the special proxies, with $0.6/GB if you need additional bandwidth). The starter plan comes with 5 ports and an unlimited number of residential IPs, meaning that this is the perfect option if you are seeking premium residential proxies for a small project with a low budget.
Features
City-targeting available
High speed
Cheapest per GB price
Custom rotation times
Both HTTP/S and SOCKS5 protocols
Success rate of 99.5%
Network uptime of 99.99%
24/7 chat support
Disadvantages
Unknown source of residential IPs
Proxies documentation is dull
Pricing isn't clear 
No Google Signup
Conclusion
We have reviewed the best residential proxy services, and it is clear that we have a winner. Smartproxy is the best overall choice and the only thing that really bothers us is the source of their IPs. Of course, they are claiming that all IPs are ethically obtained.
If you want to go for a solution that provides the best performance, Bright Data is surely the answer.