What is a web scraper?
A web scraper is a tool that lets you extract data from websites automatically, based on the initial configurations you used. It crawls a list of URLs based on your requirements and collects specific data points, again based on your needs.
You can build a web scraper by yourself, but then you will have to deal with unblocking tasks when it comes to more complicated websites and always keep the scraper updated in terms of code. This is where web scraping tools come into play – they give you the option to scale your operation, without having to worry about the whole unblocking process and about writing the code from scratch. Some tools are fully automated, and some tools offer you an IDE with pre-built functions that make the process of building the scraper easier.
Proxies and Scrapers – Are those connected?
Yes, proxies are a great resource when it comes to web scraping. By using proxies, you can send more requests to the target website you are scraping and finish the scraping process faster, and with fewer blocks. As you may have already guessed, the most popular proxy type for web scraping is residential proxies. Residential proxies use real-user IPs, reducing the blocking and increasing the success rate of your scraping projects.
The best web scraping tools to use
We have checked the biggest names in the industry and included only the best web data collection tools in our list. We ranked the providers using the following criteria:
Is it fully managed?
Programming languages support
Ease of use
Price
Built-in proxies
API integration
Customer support
Pricing comparison
Please note that some of the providers will make you use more "credits" to use their proxy service. The prices below are for the cheapest plans.
| | |
| --- | --- |
| ScraperAPI | $49/mo, 20 concurrent requests, 20K requests |
| ScrapingBee | $49/mo, 5 concurrent requests, 30K requests |
| Nimbleway | $300/mo, 300K requests |
| Bright Data | Pay-as-you-go, includes a proxy in every request |
| Octoparse | $89/mo, 6 concurrent requests |
| Apify | $49/mo, includes 30 shared datacenter proxies, approx. 12K requests |
| Scrapingdog | $30/mo, 5 concurrent requests, 40K requests |
| Oxylabs | $99/mo, 76K requests |
| Web Scraper | $50/mo, 2 concurrent requests |
| Scrapy | FREE |
When it comes to the best overall value, ScraperAPI is the clear winner. Having the option to send 20 concurrent requests with the starter plan is pretty amazing! In addition to the high number of concurrent requests, you are getting approx. 20K requests including JS rendering. Most of the providers will ask for more credits for a request that includes JS rendering, but it's not the case here.
They are also offering premium proxies (limited to EU and US on the starter plan), which helps you keep all the scraping prerequisites under the same roof. You can get support by filling out a quick Zendesk form on their website. Pricing goes from $49 to $999, with custom enterprise plans available.
Features – ScraperAPI
Proxy rotation included
Built-in DC, residential, and mobile proxies
Free trial (1000 credits) available
Supports custom headers
Rich documentation
The highest number of concurrent requests
Dedicated account manager
Anti-bot bypassing features
Automatic retries
Many integration guides
Disadvantages
Limited geo-targeting
No live chat support

Nimbleway is definitely a new star in the web scraping business. Their unique web scraping tool offers you the option to enjoy full automation with basically zero maintenance. It took us 5 minutes to build a TikTok scraper (not beyond log in of course), and the results were great. TikTok is considered a difficult website to scrape, but we reached a success rate of above 90% – higher than most of the alternatives.
You can receive the data to any storage you like, we chose Google Cloud for our test. There are no geo-targeting limits at all, so you can focus on any country you need. The UI of the control panel is very pleasant and includes everything you need to know: success rate, amount of data transferred, alerts, and more.
The prices seem high at first, but when you calculate the request CPM you'll see that they are cheaper than most of the other providers! The plans go from $300 to $4000 (monthly subscription). Yearly subscriptions are 15% cheaper.
Features – Nimbleway
Only $1 per 1K requests
Limited free trial available
Credits reroll on the advanced plan
Fully compliant and secure
Easy integration with 3rd party tools
Top quality proxies
24/7 support
Beginner friendly documentation
Perfectly structured results
Very high success rates
Disadvantages
No live chat support
No pay-as-you-go plan
No real-time alerts for the cheaper plans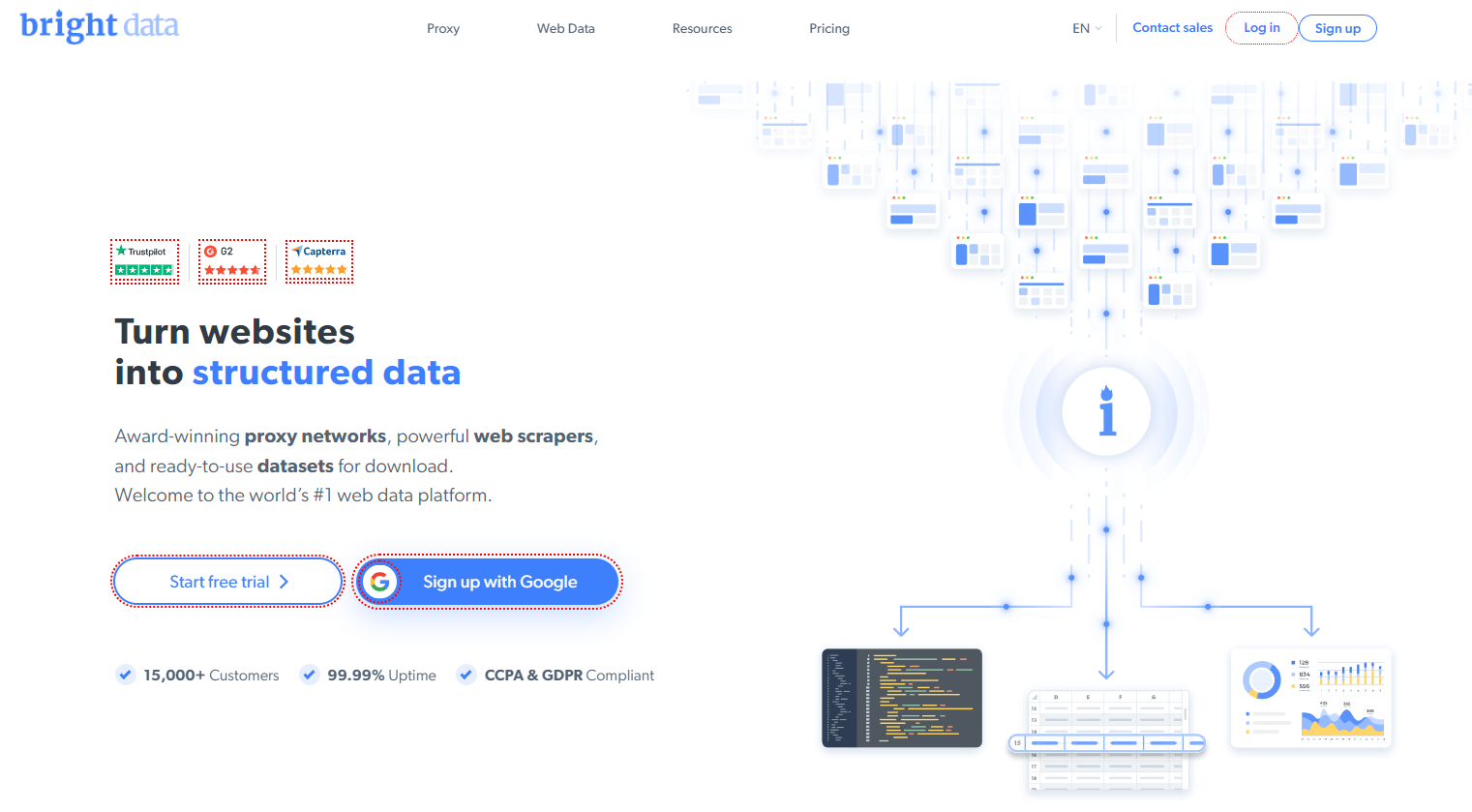 Bright Data started its way as a proxy provider but decided to advance to the next step of this business chain, data collection. Their web scraping platform is based on an IDE, meaning that it's not fully managed. You can always hire a developer to set up the scraper for you or ask Bright Data to connect you to a 3rd party company they are working with.
If you do have some basic coding experience, you'll enjoy the benefits of pre-made templates and ready-to-use functions that save a lot of time. You are getting some advanced debugging tools and the most advanced CAPTCHA-solving and unblocking service. Right now, unfortunately, there is no option to use Python in the IDE, which is the most popular language for web scraping, but we have a feeling that it's on the way. Meanwhile, you can take advantage of their web scraping tool only with JavaScript to handle browser control.
The support is top-notch, helping you solve your problems quickly. The main drawback in terms of support is that the pay-as-you-go plan doesn't come with 24/7 support. There is also not enough information about the number of concurrent requests, something that all the other providers include in their pricing.
The prices are quite high, but only because the scraping requests include built-in proxies already (super helpful for scraping), for which you'll have to pay extra with any other web scraping tool. You can expect to pay $5 to $1000 a month, with custom enterprise plans available. In general, the CPM is one of the highest in the industry.
Lastly, the results are amazing and you get those delivered to the following storage destinations: Amazon S3, Webhook, SFTP, Google Cloud, API, and MS Azure. A big advantage of Bright Data compared to other providers is that data can include media files and screenshots!
Features – Bright Data
Pre-made templates
Advanced debugging tools
Easy integrations
Dataset offer available – saves time and headache
Pay-as-you-go plan
Ready-made functions
The highest success rate in the industry
Built-in proxies
Rated 4.8 on Trustpilot
Great documentation
Crawl scheduling
Disadvantages
No live chat (while some competitors do offer a live chat)
No 24/7 support for the pay-as-you-go plan
No fully managed solutions
Quite pricey
No Python support yet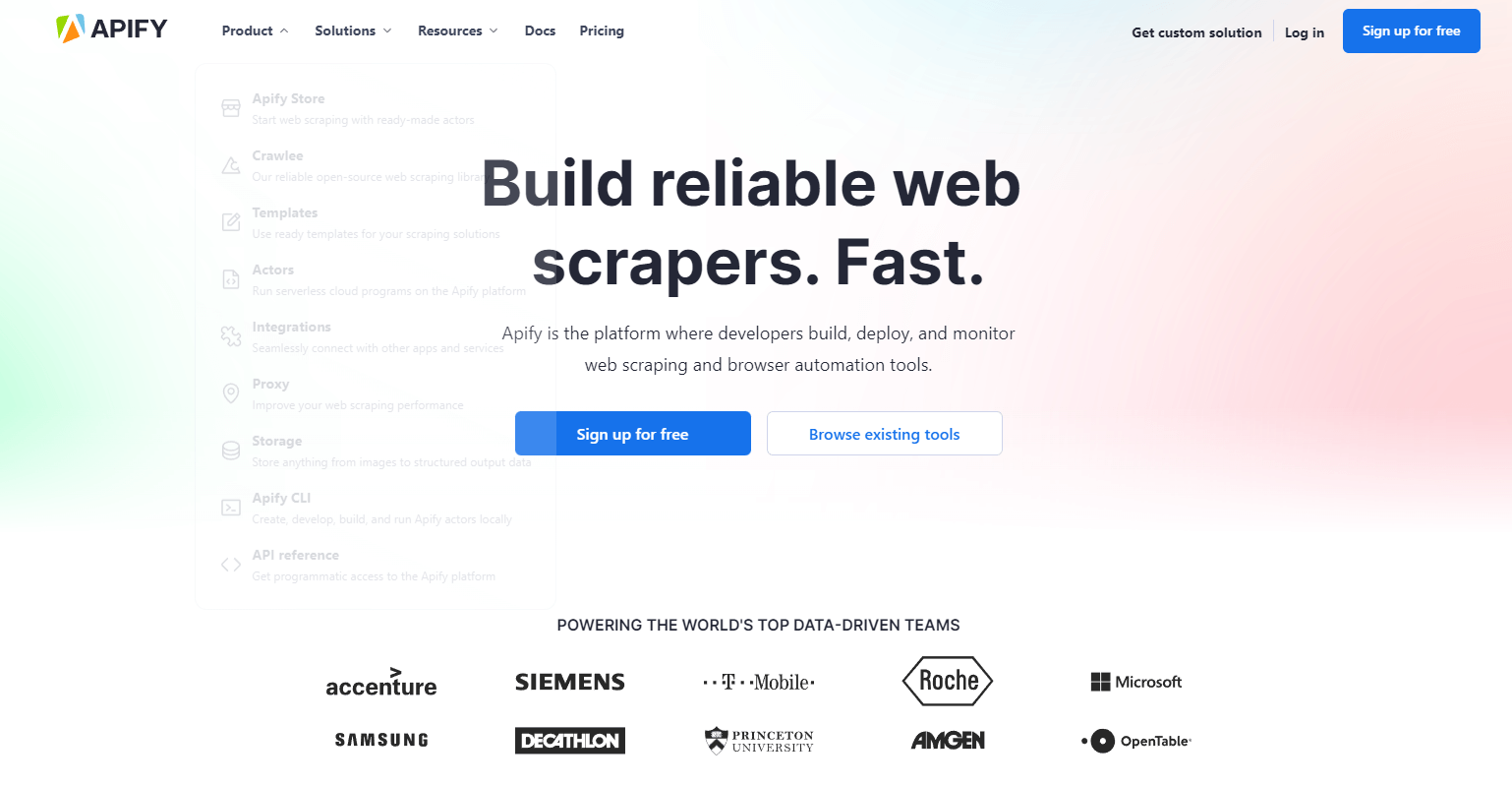 Apify is a well-known provider of web scraping tools and offers a wide range of pre-built web scrapers, with most of them dedicated to specific use cases and purposes. Apify comes with a great browser extension and allows connecting to proxies using an API. Apify has a great reputation and is working with some of the biggest companies in the world, including Microsoft, Samsung, Decathlon, and more.
You can use their amazing Node.js library, Crawlee, to empower your web scrapers and give them an almost unfair advantage. You can also libraries you are used to, including Puppeteer, Scrapy, Selenium, or Playwright. Apify has the richest GitHub we've seen, so kudos to them for that.
RAM memory scales, and starts from 4GB on the free plan, which is already enough for a small scraping project. You also get a high number of team seats, so you can invite your colleagues to the same account. This is one of the only providers that lets you get full Discord support on the free plan, and all the paid plans come already with chat support!
Their prices are great, for $49 you can scrape around 12K pages including JS rendering! If you want to scrape simple HTML pages, you'll get 55K requests, which is pretty amazing. You can buy add-ons like shared DC proxies (not recommended, high blocking rate), increase max memory, and increase the number of seats.
Prices range from free to $499/mo, with custom enterprise plans available too. In conclusion, Apify is one of the best choices out there, especially if you have a particular use case.
Features – Apify
Great prices
Both Python and JS
Includes Crawlee, their own library
Discord and chat support
Wide range of export formats
Free plan available
CLI support
Huge collection of dedicated scrapers
Best GitHub
Proxies included
Clear pricing information
You can share your own actors
All plans come with shared DC proxies
SDK for JavaScript
Disadvantages
Additional fees for using some scrapers (monthly subscription)
No city-targeting for the residential proxies
Missing information on concurrent requests
Oxylabs is a successful proxy and web data provider from Lithuania. They are probably the biggest competitor of Bright Data when it comes to proxies, and now they are working really hard to become the best web scraping tool provider.
In terms of quality, their web scraper API is as good as Bright Data. You'll barely get any IP blocks or CAPTCHAs and even if you do, you are still paying only for successful requests (as with most of the providers). They have some really cool dedicated scraper APIs for specific use cases like SERP, e-commerce, real estate, and more. They offer a quick and easy integration and you can receive the results via an API or just get them straight to your AWS S3 or Google Cloud. We would love to see more cloud storage options supported in the future, but they got the main ones covered.
Their huge pool of residential proxies will also help reduce the blocking rates and their in-depth tutorials will help you get started even if you are a newbie. The number of concurrent requests that you can send is quite ridiculous; up to 1000 requests at the same time! Of course, you'll have to be on the enterprise plan which starts from $10K.
Their support is one of the best in the industry, and they are also offering live chat support 24/7. Regarding the price – they are offering an awesome free trial which includes 5000 requests (!!!) for a whole week, without even adding a credit card. Definitely a recommended choice.
Features – Oxylabs
24/7 chat support
Fair prices
Best learning center in the industry
Dedicated APIs for specific use cases
Supports JSON, cURL, Python, PHP, and HTTP
Crazy free trial (no dashboard access though)
High concurrent request limit
Huge proxy pool
Schedule your crawls
User-friendly dashboard
Disadvantages
JavaScript code not supported
Dedicated account manager only for the expensive plans
No fully managed solution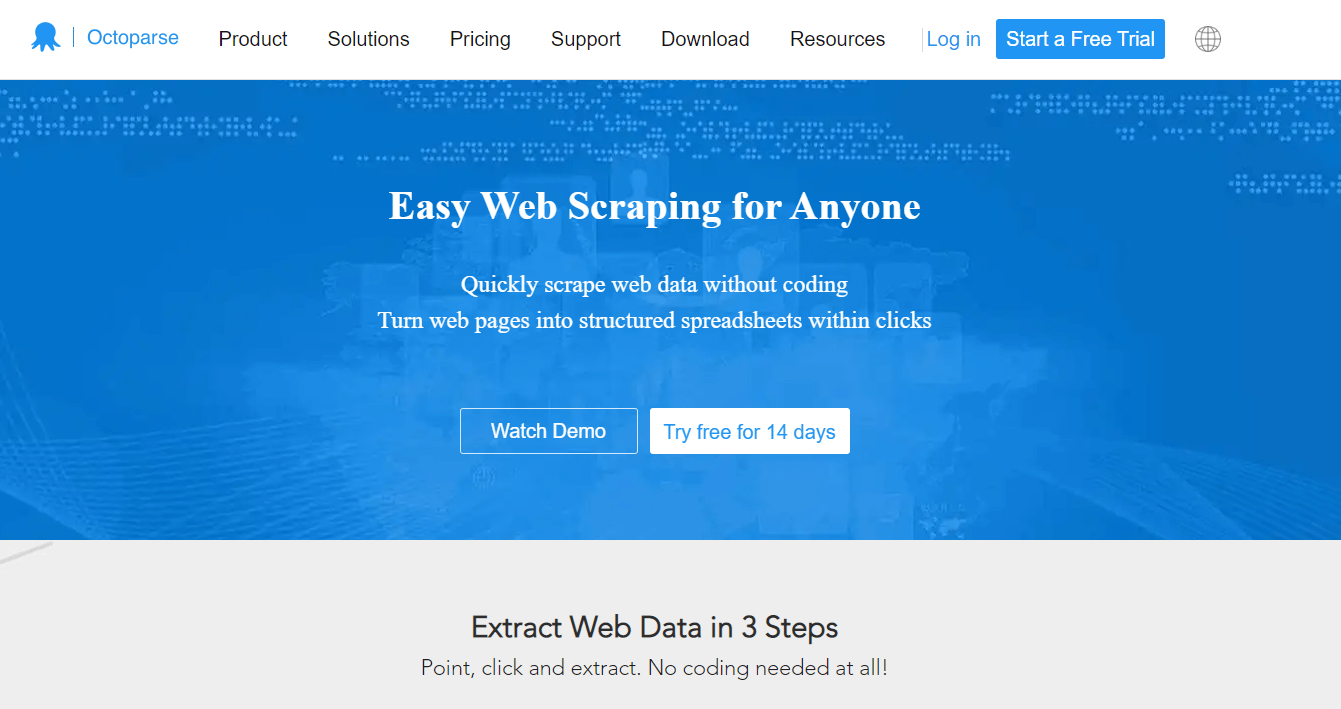 Octoparse is around for quite a long time already and is one of the most popular web scraping platforms among non-coders, according to a SEMrush analysis we did of their website (37.5K organic traffic worldwide). Their unique approach allows you to simply load the URL you want to scrape from their GUI, click on the target data you need, and start the extraction process.
Octoparse works well with most websites, but once you are trying to scrape a big number of URLs or websites like Instagram, we recommend using residential proxies. They do provide DC proxies, but those don't do the job with complicated websites. In addition to the regular web scraper that you download, they have some extra services that include collecting the data for you and dedicated crawlers built only for you.
Regarding the scraper itself – the download and installation process is a bit long and took us around 1 hour in total. The amount of files that are installed is quite high, and we just want to make sure that you are aware of that. Their credit system is not as clear as the competitors and the pricing is confusing in general. You might find yourself falling between the "small letters" and spending many credits on CAPTCHA solving and DC proxies, so take note of that. Prices range from free to $249/mo with custom enterprise plans available.
The quality isn't as good as the other solutions we discussed above, but the no-coding feature and the click-and-choose idea caught our attention. According to our tests, their blocking rate is higher than the providers listed above and the scraping process is slower in general, but it is the easiest web scraping tool to use in 2023 considering the available alternatives.
Features – Octoparse
5-day money-back guarantee
Unlimited requests
Easy for no-coders
1-on-1 training with the Pro plan ($249/mo)
Decent beginners guide
2 scraping modes
Free plan available
Live chat available
IP rotating available
Image and file download
Schedule the scrapers
Tailor-made scraping solutions
Disadvantages
No 24/7 support
No real documentation
Long onboarding process (download and installation)
Low-quality built-in proxies
Pricing features are a bit messy
Slower than top-of-the-list solutions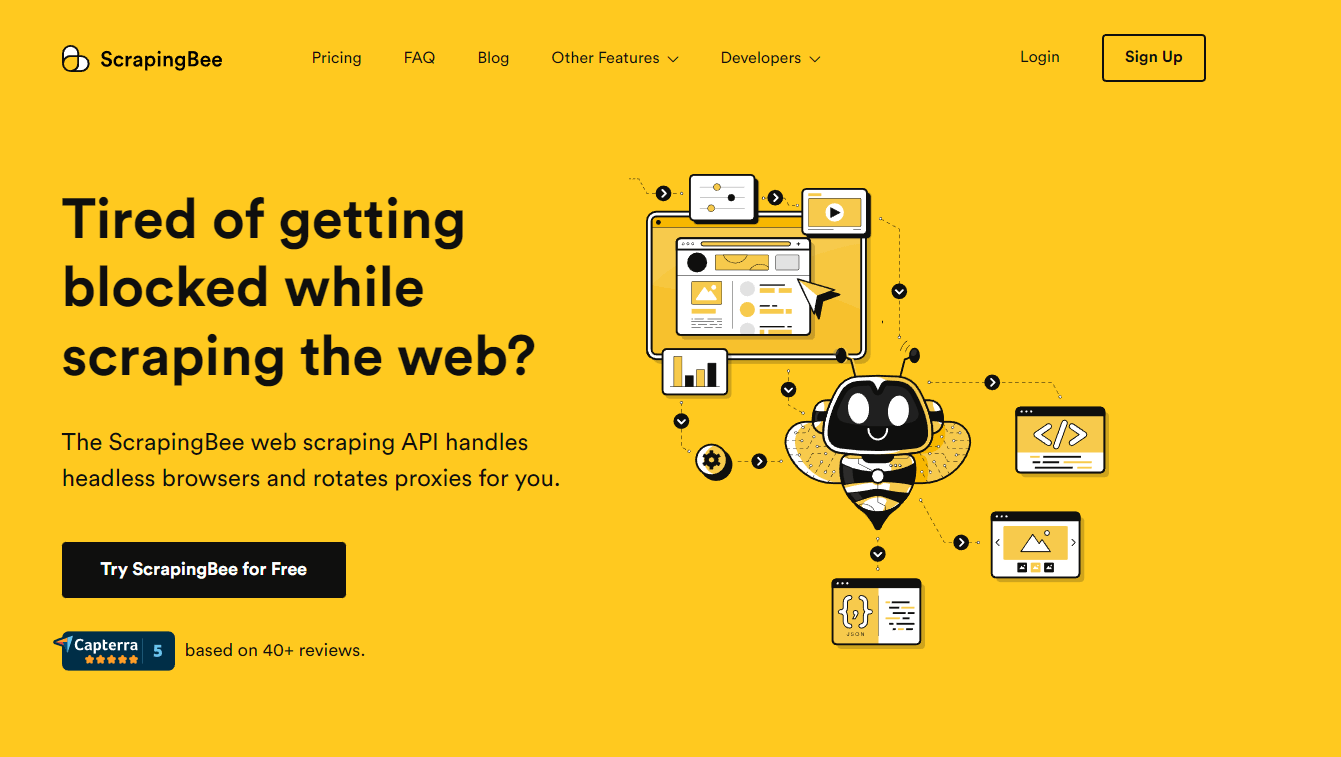 ScrapingBee is a rising star in the web data collection industry. They are providing some of the best blog posts and are offering web scraping API that takes full care of the headless browser and rotating proxies steps. This makes them one of the fewer solutions that don't require the use of headless browsers at all.
Along with all that, they can deal with rendering JS, which is very important for more complicated targets and dynamic content websites. There is a no-coding solution available, using their Make integration to connect ScrapingBee with other no-coding scraping tools.
In terms of information about their tool, the developers section is very helpful and includes tutorials, documentation, and a useful knowledge base (and as stated above, some awesome blog posts).
Overall, they are bringing great results and are offering fair prices and the number of concurrent requests on the $99/mo plan is 50, which is very high. Even though there is no live chat available, their support does a good job and replies to support tickets swiftly. Online reputation? They are rated 5/5 on Capterra by their customers.
The web scraping API can be used for a variety of use cases, similar to all the previous solutions: scraping prices, SERP, dynamic content websites, and more.
Features – ScrapingBee
Scraping scheduling
Integrates with no-code solutions
Excellent documentation
Easy-to-understand pricing
Large proxy pool
Rated 5/5 on Capterra
Fair prices
Wide range of delivery methods
Free trial available (1000 API credits)
All JS libraries supported
Disadvantages
No live chat
The number of requests could be higher for the price
No explanation for use cases (what the tool can be used for)
No custom scraping scripts (provided by ScrapingBee)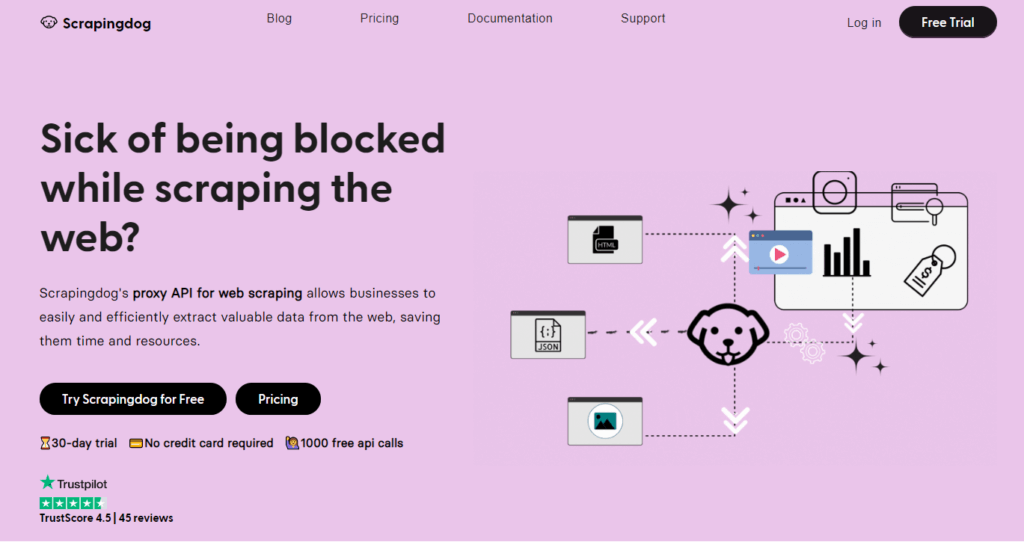 Scrapingdog is a relatively new web scraping API tool that allows you to easily extract data from any website. They mostly take pride in their LinkedIn scraper, which is one of their most popular APIs. While you are using Scrapingdog to scrape websites, they are managing browsers and proxies, allowing you to send requests from different IPs and with different fingerprints. You can use many different languages to get started with their web scraper, including cURL, Python, Java, Ruby, PHP, and NodeJS.
In addition to the LinkedIn scraping API, they are also offering a great SERP API, which will help you extract results from Google's search results. If you are going to give it a try to Scrapingdog, you will receive 1000 free API calls without inserting a credit card.
They have great email support with real specialists and they'll answer any question you have. The documentation is also very clear and well-structured, allowing you to use the tool at its max potential.
Overall, Scrapingdog is a good choice for SMBs and the prices range from $30/mo to $500+/mo for enterprise plans.
Features – Scrapingdog
A high number of requests
Cheap starter plan ($30/mo)
High success rate
4M+ Residential proxies
A great LinkedIn scraper API
Free trial available
Rated 4.5 on Trustpilot
Scrape targets with JS rendering
Disadvantages
No live chat support
Not enough reputation online
Not enough delivery methods
Other web scraping tools
We've reached the end of the "golden list", and now we are going to present you with some alternative solutions that can work well, but not as well as the providers we listed above.
Web Scraper has a successful Chrome extension, but they are very expensive compared to the other solutions in the market.
Scrapy is a free open-source web scraping library based on Python. It is a great solution only if you are an experienced developer with the ability to take care of JS rendering and proxies.
Conclusion
In this article, we've gone over the best web scraping companies in the industry right now. As you can see, some choices are more attractive because of their pricing, some win in terms of results quality, and some tools offer you the option to scrape websites without coding at all.
What's left now is to decide what solution fits your budget and use case the best, and start scraping. Proxies Data updates its articles from time to time to make sure that all the information is up to date.